"You Can Have Anything You Want..."
"...as long as you make it yourself"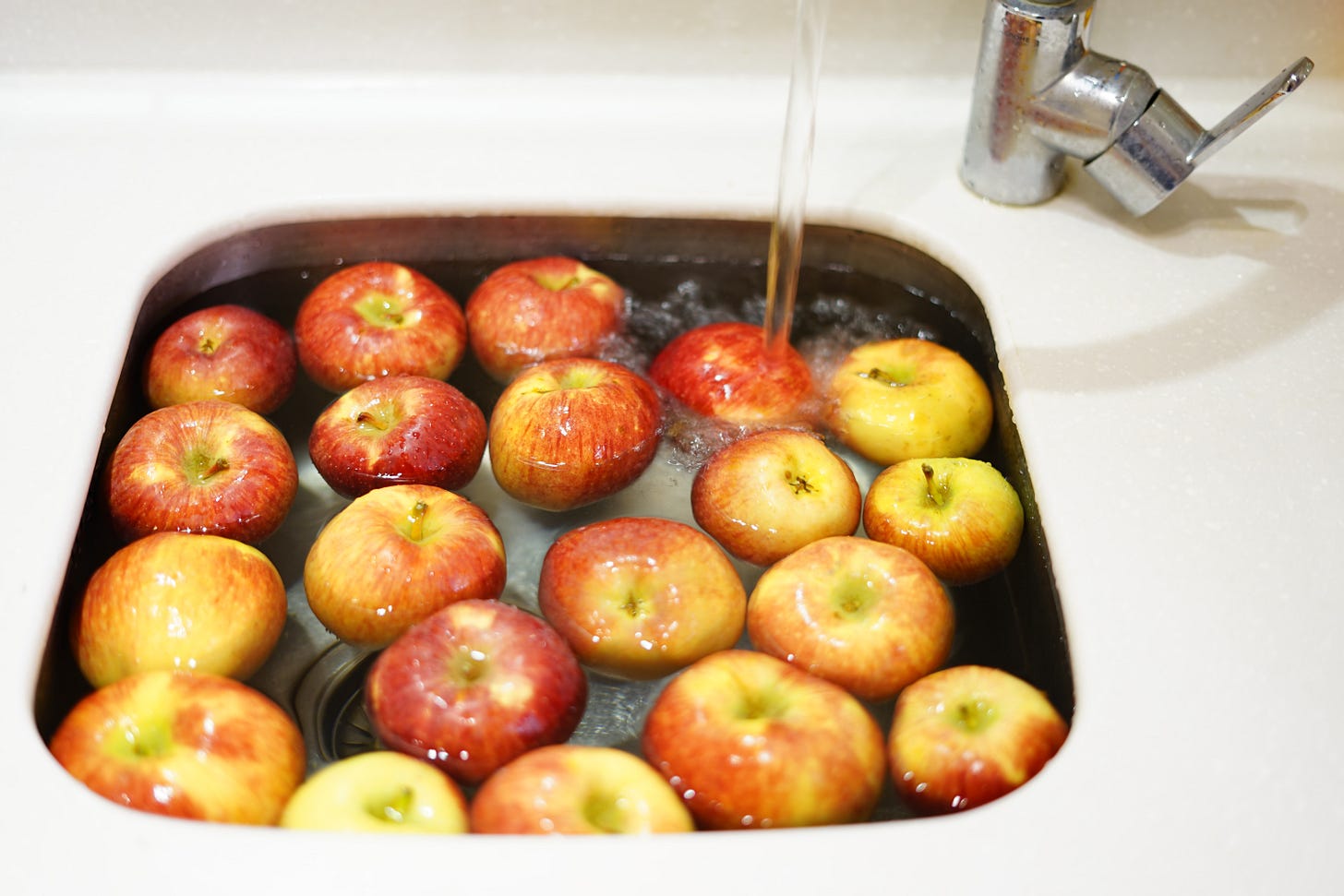 "No more bobbing for apples…"
We have restrictions for Halloween.
The Governor didn't cancel Halloween, but she said Trick or Treat must happen during the daylight hours and people should keep their distance. Somehow The Virus knows when the sun sets, I guess. It must have a bit of the vampire gene.
I think spitting in a bucket for fruit is silly when it's just as easy to pick it off a tree.
But, when I said, "We're not trick or treating this year," Declan acted like he couldn't see it coming.
"Mom! I have to trick or treat!"
"Not this year. I'll get you candy," I said.
"Okay." Turns out, it was only about the candy in the end.
"Let's just go to the store the day after Halloween and get candy 75% off…" That's an offer any kid can't refuse—double candy for less than half?
Declan said no. You can't reschedule candy. "And I don't want the weird stuff you make, either." By "weird," he means homemade. "I want real candy. From the store."
He said that when he was little, and I was hand-packing his school lunch on home-baked bread. "Can't you just get stuff like the other moms get? Like chips and snacks and the bread that's square?"
Turns out the other moms get chocolate in a pre-wrapped bag for Halloween.
So, that's what we did this year. No trick or treating, no apples. Just three friends, semi-quarantined, around a bowl of candy. From the store.
Chef Pollan's Food Rules…
"You can have all the junk you want, as long as you make it yourself." Chef-food author Michael Pollan's made that rule in his book Food Rules.
The idea is if you have to make the junk you eat instead of buying it, you'll eat better. If you have to make your pint of ice cream instead buying ten pints of Ben & Jerry's… you'll choose some carrot sticks you've got lying around.
It's all about moderation—the times you're troubled to make a treat, you'll enjoy it, because it'll be few and far between.
But, Michael Pollan never met me. I can make nearly anything. Even before I was consciously poser homesteading, I deconstructed my favorite things until I didn't need the store. The original reason I did this was because I was excessively cheap, but when I was cured of that affliction, I realized "from scratch" isn't always that frugal but it is super-gourmet… I spoiled crappy food and chain restaurants for myself forever.
That brings me back to the issue of Halloween candy.
"Your toffee is delicious," my friend said. I didn't make my special toffee for Halloween, because I just made it for the adults two weeks ago. We ate it.
"Thank you," I said. "The beauty is, it's unlimited."
That's one of my favorite things about the Poser Homestead… learning to make and do stuff means I get an unlimited amount of (nearly) anything I love that I can learn to craft. And that's a wonderful thing.
Here's my toffee recipe in case you finish your store Halloween candy.