To All the Greenhouses I've Destroyed Before...
This one's staying!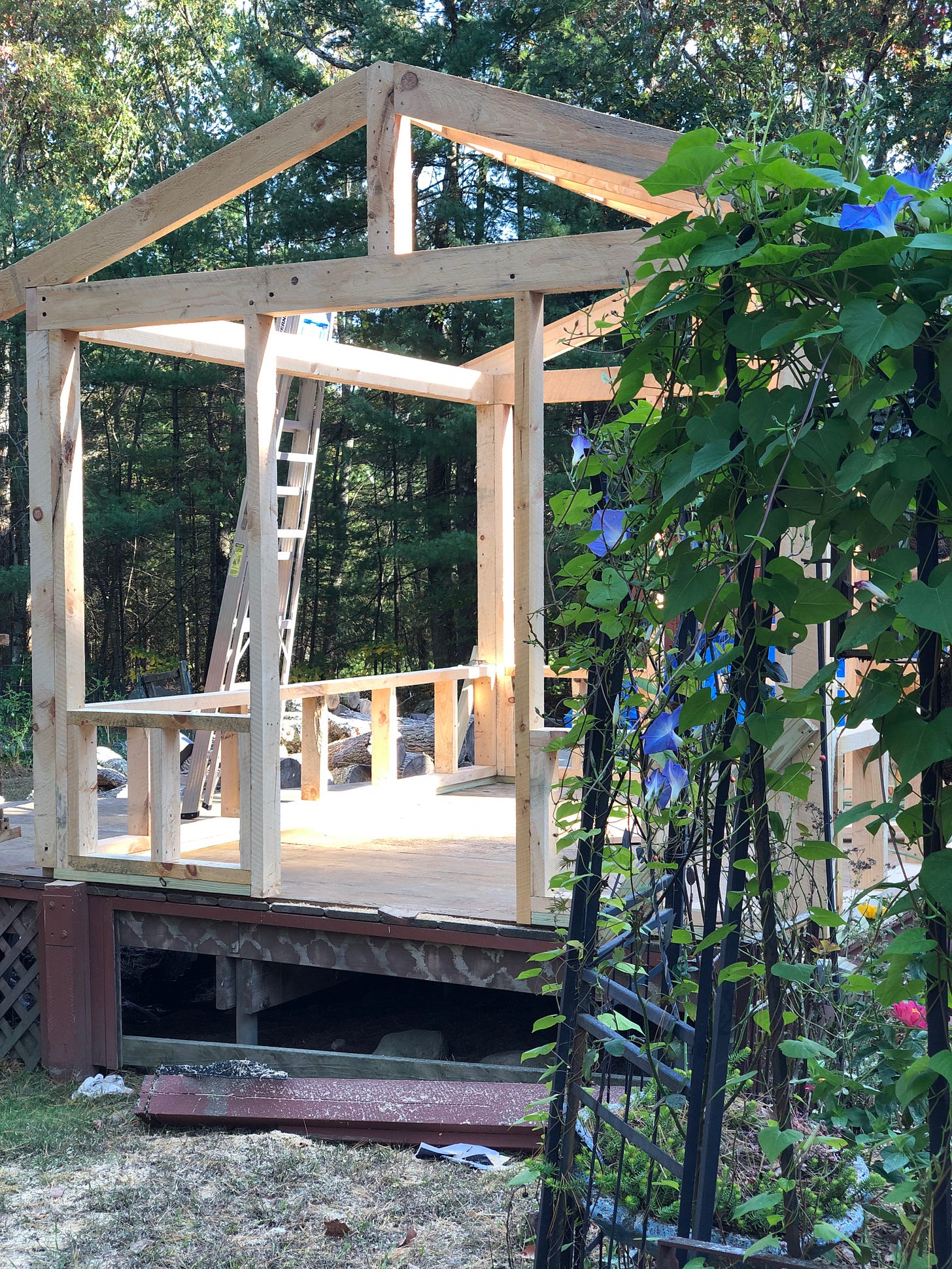 What's better than a Poser Homestead greenhouse built partially from community-sourced upcycled materials?
One that's finished. Standing. Beautiful. And not falling on my head.
There are no shortcuts…(except outsourcing)
I've had cheap kit greenhouses before—the kind that blow away in New England storms. I never got any dinner out of them.
Greenhouses aren't magical food rooms. They need things. They need enough heat in the winter, cross ventilation in the summer, and most of all, they need to stay standing.
I've dreamed about the "It'll Stay Standing" greenhouse for the past four greenhouses, but every single one collapsed.
This year, I decided to build one myself. I wanted to repurpose unwanted building materials so it would be better for the environment.
I salvaged wood, collected the entire town's supply of unwanted old windows and doors, and dusted off my power tools. First, I resurfaced the "drunk deck" with salvaged 3/4 inch plywood.
The drunk deck is an old pool deck with no pool—and no railing. It's one Irish barbecue away from killing someone. We put the woodpile against it to break a person's fall, but then, kids and dogs climbed the woodpile. The former insurance adjuster inside me cringed.
I planned to take the drunk deck down for safety, but it's solid. The boards on top were spongy, but the rest—a nightmare demolition project.
And so it remained, a procrastination project waiting to claim a victim.
Until the greenhouse spoke. "Put me here! On the Drunk Deck. It's flat. You'll save time. I'll be right outside the door. Drunk Deck can stay and no one will get hurt…It's perfect!"
That was in February.
"Aren't you going to build me? It's summer… you need me by fall…" it said.
"Soon…"
I'd been busy YouTubing ideas, "waiting for alone time to build in peace," and "waiting for my friend" who offered to help, but she's a farmer and it's hay season…You know how that goes.
"First frost is coming! Let's go!" the greenhouse said.
Still, nothing got done.
"You're never going to build this," Rusty said. He likes order and finished projects. A trash heap of supplies on the side of the shed is neither. This was a direct challenge.
Time for the nuclear option.
I called David to "give me some ideas."
Get it done!
David is the amazing carpenter who fixes everything I break.
Here's how this goes: I call David with a small project. I tell him an idea for something I'd like to do myself. We discuss the idea, but mid-conversation David doing it instead.
I call David "Jesus" behind his back because David is a carpenter who fixes everyone's stuff and Jesus was also a carpenter who fixes everybody's stuff.
I didn't need anything as big as a resurrection or casting out demons. I just needed a greenhouse. I'm already planting seeds in my head.
Today, that greenhouse is almost finished.
David left a little extra space on the Drunk Deck where "You can build a potting table, and small shed for your tools." This made it come under budget and was faster for him, but he made me feel like he wanted to leave some building space for me.
"Stay in your lane."
Remember, this is a poser homestead. That makes all the difference. Some things don't make sense to do myself.
"You should just get it done," said my neighbor.
This neighbor's an unnaturally talented hobby builder. "This is my first big project," he said when he built his house-sized shed. Next, he built a tree house nice enough for his kids to move in if they don't leave the house on their own.
"No, I want to build this myself and learn," I said.
If I was stuck in an Alaska reality show, I'd have no choice but to build the greenhouse myself—something that looked like I vomited out the town's windows.
Now, I have something beautiful.
Meanwhile, I'm doing what I do best—finishing up canning season and doing my day job. I'm peeking out the window picking up some carpentry tricks seeing what David does.
This would've taken me months and cost more because I'd be paying for delivery, and David gets contractor prices and better stuff.
It's a win-win. And, a good Poser Homestead lesson.
The moral of the story?
Sometimes it's better to stay in my lane. This was one of those times.
Because I did, if you're my close-by friend, you'll have kale year round.
---
Here's what I ate for dinner:
Frittata with Leftover Local Mushrooms and Two Cheeses Because I Couldn't Decide Which One
Ingredients:
8 eggs

About a cup or so of cheddar and mozzarella, grated.

sautéd mushroom and caramelized onion (sauté in butter, prep ahead of time. Sometimes I even prep batches of this and freeze for moments like this).

salt and other seasonings

spinach—I had some leftover. Kale, chard, or potatoes would've worked nicely, too.
Directions:
Layer in the fillings and cheeses into any deep pan. I used a pie dish, but you can use a casserole dish or even a loaf pan.

Scramble the eggs. Season these (salt, garlic powder, pepper, herbs) and pour over the fillings.

Bake at about 350 for 30-40 minutes until solid in the middle.
Frittatas are better than quiche since you don't have to make crust. Toss anything in there and bake until the egg's cooked. Make two or three with different flavors (Basil, tomato, mozzarella. Feta and kalamata. Meat. Stilton and mushrooms.) and slice them up into meal-sized pieces. Freeze.
This is a perfect make-ahead meal.
I make these before the chickens stop laying for the winter.
Enjoy!