"Cramming" Kills Your Poser Homestead
"Less is More" so you don't go insane.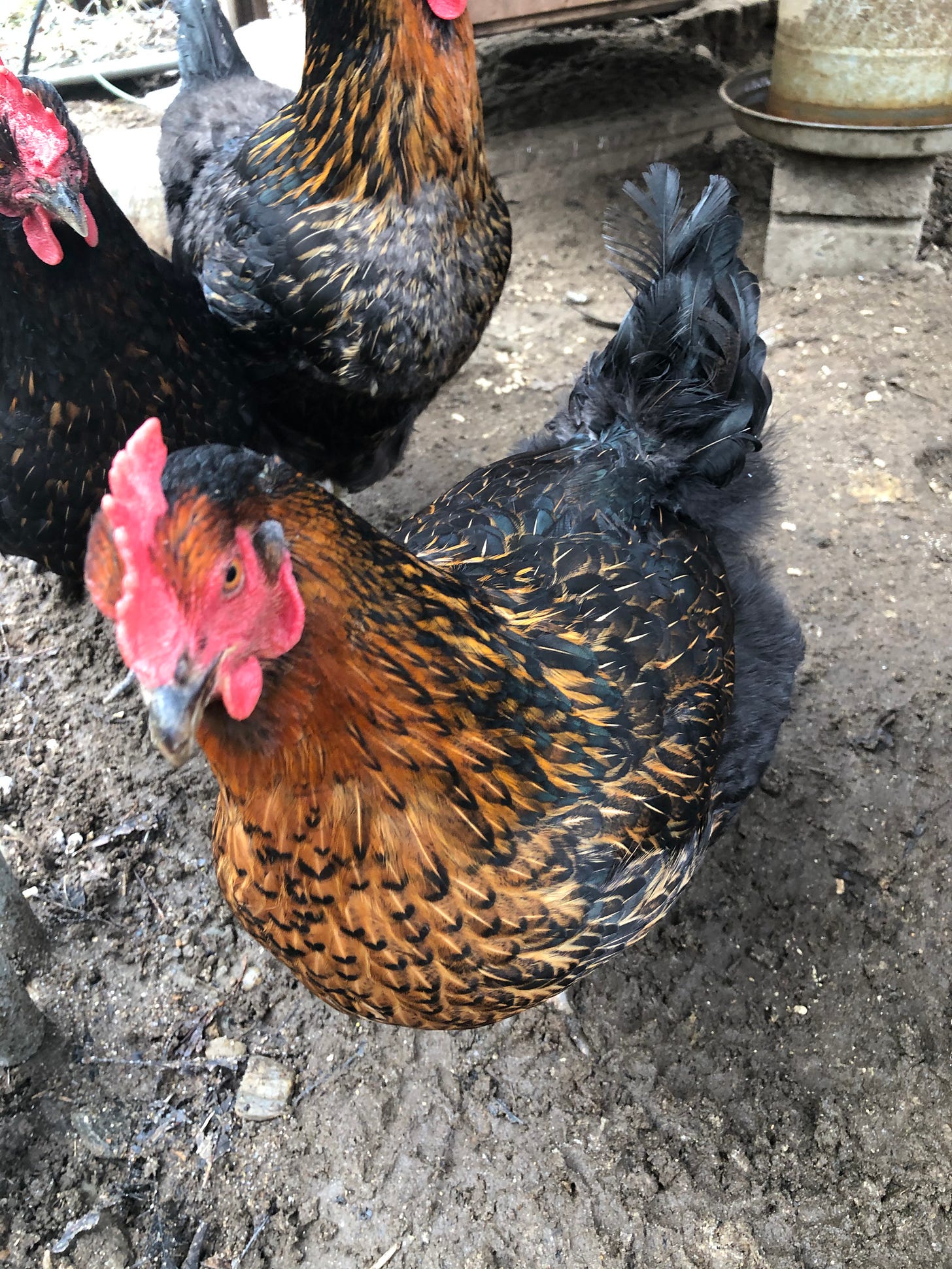 The beautiful thing about a poser homestead is you can do it anywhere, with any motivation level, and any amount of land. You can stop at being a counter sprout jar Instagrammer, or you can go crazy.
But be warned: things get out of control, fast. It's easy to become a "crammer."
Whether you're planting your first garden, trying to sneak another heirloom fruit tree on your land, or become interested in learning one more homesteading skill, it's tempting to cram one more thing in.
Soon, you'll have seventeen ferments on your "chemlab" counter and mason jars taking over your house.
You can have a successful poser homestead in any size space. But, no amount of land will save you once you start to cram.
"But I have a NYC apartment."
The smaller the space the faster poser homesteading can get out of hand. There are only so many mason jars, indoor herbs, and corner fig trees you can fit in an apartment before you're sleeping in the hall.
Still, you can fit a surprising amount if you're clever: vertical-wall planters, indoor lights, kombucha stations, yogurts, breads, sprout jars. But, you've got to be space conscious.
You can't have a farm in midtown Manhattan. But you can accomplish the same things—cooking from scratch, living simply and sourcing good food.
Choose your projects wisely. You might decide not to take up canning, but instead keep ferments, sourdough starters, and sprouts, then go to the local markets for quality ingredients, then cook and freeze well-sourced food in the space you have.
Don't let bubbling crocks threaten to evict you from your apartment. Go all in on some space saving projects.
Here's what to do:
Choose the projects you do the most.

Limit yourself

Make sure to choose size-efficient homesteading projects and figure out how to find equivalents for the rest.
If I were in an apartment, I'd grow herbs in a wall tower or countertop garden, vertically to maximize my space. I'd have two jars of sprouting seeds on the counter. I'd make my bread dough at night and bake it in the morning. But, since I wouldn't have an outdoor garden, I'd use the freezer to the fullest but probably wouldn't do a lot of canning.
I'd make small batches of kombucha instead of bottling big. And, I'd choose my favorite yogurt to culture instead of the three I have right now.
That's plenty to do without overrunning the space.
"I've got an HOA"
This is a tough one. The HOA police don't appreciate borders of kale and corn. You might try telling your neighbors corn is really a grass, that your greens along the walkway aren't vegetables, they're decorations… "ornamental kale," but you probably won't get it by the lawn rangers.
But honestly, if your poser homestead sneaks out from behind your backyard fence, you're probably cramming too much in for your space and your HOA will fine you.
Here's what to do:
Choose your neighborhood wisely if you're about to move. Don't pick a space not zoned for chickens if you want chickens. Respect the rules of the neighborhood.

If you must break the rules, be reasonable. Put your homesteading in a fully-fenced back yard. Don't raise livestock. Keep your carrots in the back yard.

Source your foods and well-farmed meat locally. Get the best ingredients and cook and can from scratch.
"I've got an acre or two."
This is the ideal amount of land. It's also the most dangerous for homestead crammers.
The reason: it's fun, and you have space. In addition to putting "Just one more thing…" in garden beds and sunny corners of your land, you'll probably spread yourself too thin overall.
Here's how it happens: You start out with a couple chickens then get a few more. So, you expand the coop. You plant a permaculture garden that spreads and you don't want to toss any plants so you expand operations.
You get too many seeds or seedlings for the size of your veggie space. You cram them in. "They'll fit." "If they wanted me to plant two, they wouldn't have given me five hundred seeds."
I've been there—I'm carefully controlling fruit trees since I can now see they're too close. I've played "Where's Waldo" in my garden after it got out of control since I couldn't weed it all.
Cramming.
It's no good for anyone. It just makes you miserable in the end.
Here's what to do:
Sit down and plan out any homestead project before you build. Ask this "Is this reasonable?" "Can I keep this up?" "Does this make sense?"

Stick to the plan. If it's too late, reduce slowly until you're at a manageable level.

Plan seasonally. You can get a ton of benefit living seasonally in a larger space, for the same amount of work. But, match your canning, gardening, food raising, and food crafting to your interest level and the amount of time you have.
Larger spaces let you do year-round seasonal poser homesteading if you want. You can grow or source foods in season and can them. You can have small (or large) livestock.
But, ask yourself how much time you want to dedicate to your homestead, and what will bring you joy or produce the best return for you. Do that.
Remember, this is the poser homestead movement, we're not all survivalists here. Do what brings you joy. Just because you have 100 acres doesn't mean you want to plant them all.
What to do if you already crammed
Livestock
Many people get small livestock or backyard chickens without understanding the ordinances or care. If you did this, stop what you're doing and research best practices immediately. Either make the improvements you need or rehome the animals.
Overcrowded or poorly kept animals is a health risk for you, your animals—and is mean. If you're one chicken over the limit, you can remedy this by keeping the coop and run extra clean, then don't get another bird until your flock can fit the space. If you have goats crammed in, or I've even seen cows in too small a space, this is priority one—get it taken care of.
Garden
There are three solutions to cramming in the garden.
Go vertical. The sky's the limit, but you'll have to build some structures to build a vertical garden. The more you learn to go vertical, the better you can maximize your garden space.

Find more garden space. You can separate your gardens to have a culinary herb garden on a border, or plant different foods in different spaces, rotated over time.

Discipline. This is the hardest thing of all but the one my Poser Homestead teaches me best. Just…don't…do…it. Don't put that extra…thing…in that space. Don't culture seven types of yogurt. Don't over prep, can too much, dehydrate things you don't eat, or take on another project you can't do.
Cramming isn't only about space
It's about overcommitting—your time is important. So's your sanity.
And while arguably, my temptation to overdo things served me well during the quarantine, usually it's not necessary.
Most homestead things interest me. But there is no need for me to do them all. When I try, I'm cramming too much into my calendar. I don't master any one skill deeply, and I waste food, time, and energy.
A real farmer has no choice. I was talking to my farmer friend who has a full-time job tends to animals, harvests hay, and sells at the farmer's market…" That's life on a multi-generational farm or real homestead.
I'm neither. I'm not farmer, I'm a poser homesteader.
My goal is to plan the best poser homestead I can and outsource the rest. Less is more.
"Cramming" seems like I'm getting more in—more stuff, more activities, more production—but I'm not.
Less is more on the Poser Homestead. Grow slowly over time, and live well!